*scroll down for spanish / español
In 1972, salsa was at its height. Larry Harlow, known as "The Marvelous Jew," was contemplating the idea of a new musical concept for the Afro-Caribbean music scene. Inspired by the success of the rock opera "Tommy," Harlow got ready to unveil a similar concept, designed for the salsa market.
The idea came to life in 1973 with the opera "Hommy" (lyrics penned by Heny Álvarez) that told the story of a boy who was born deaf and blind, but had an enormous talent for percussion. Here, the greatest musicians of the time came together: Justo Betancourt, Cheo Feliciano, Adalberto Santiago, Junior González, and Pete "El Conde" Rodríguez, not to mention the woman who would later become the "Queen of Salsa": Celia Cruz.
This group of artists did their duty with a recording that took a place of honor in the history of Afro-Caribbean music, with a radiant performance that captured the attention and imagination of salsa fans around the world. This production also has the important distinction of being the first recording that earned Celia Cruz success in the US salsa market. Almost by accident, Harlow met Celia Cruz in Mexico, and told her he wanted a female voice for his opera. At the same time, Jerry Masucci was considering Celia as an alternative to the musical authority of La Lupe, who was at that time considered "The Queen of Latin Soul."
Celia Cruz went to New York to meet with Masucci and discuss the possibility of recording with the Fania label; when she arrived, she discovered that her meeting was in the same studio where "Hommy" was being recorded. Celia told me, "I got so angry, and I'm not an angry person. They had me all set up to sing 'Gracia Divina,' which I had never even heard. But I learned it and I sang it." "Gracia Divina" was an enormous hit, and opened the doors of success to Celia Cruz, who immediately recorded "Bemba colorá" with the Fania All Stars. The rest is history.
The musical and rhythmic variation in "Hommy" offers an amalgam of traditional Cuban music, in wonderful arrangements by Larry Harlow. This is a veritable representation of the state of salsa music in the early 1970s. During that time, violins began appearing in salsa music, and figure prominently in "Hommy." This recording presents salsa at maximum capacity, and is an indisputable achievement of Larry Harlow's musical magic. The tracks "Es un varón," "El día de Navidad," "Quirinbomboro," "Gracia Divina," "Cari-Caridad," and "Soy sensacional" were undeniable worldwide hits that became dance numbers and points of discussion among salsa musicians. This was the first time that a Spanish-language, salsa-themed opera had ever been presented to the masses.
The opera ends with a chorus of pleas to the spiritual forces of the universe to end suffering on earth and the war in Vietnam through divine grace and charity. At the same time, there is the resignation of the people, who prefer vacillation, not sermons on sensible living. "Hommy" opened the doors for this kind of performance to the salsa market. The opera enjoyed great success in Puerto Rico. Through "Hommy," salsa took on a sophisticated air, and this legacy opened the doors for the Afro-Caribbean musical tradition to enter the most prestigious performance halls in the world.

This is the legacy of "Hommy," one of the best recordings of the era. It brought the best musicians of the genre together in a musical expression that transcended time; simultaneously, it introduced Celia Cruz to the salsa market and planted her firmly in the throne that she never left. More importantly, however, "Hommy" took salsa to a new level with the public, proving that the genre belonged in the best performance halls in the world. From that moment on, salsa became dancehall music, and it has this record to thank for it. (Written by Juan Moreno Velázquez)
Enjoy the full album:
CREDITS
Cast:
Celia Cruz - Gracia Divina
Justo Betancourt - El Padre
Cheo Feliciano - El Padrino –Tio Jose
Junior Gonzalez - Hommy Gonzalez
Pete Conde Rodriguez - Elemento Del Bonche
Jenaro Heny Alvarez - El Heladero
Adalberto Santiago - El Doctor
Contributing Musicians Orchestra Harlow:
Larry Harlow - Piano, Eddie Guagua Rivera - Bass, Eddie Colon - Timbales, Tony Jimenez - Conga, Pablo Rosario - Bongo, Larry Spencer - Trumpet, Ralph Castrella - Trumpet, Sam Burtis - Trombone, Lewis Kahn - Trombone, Junior Gonzalez - Vocals & Percussion
Carmel Malin, Jesse Tryon, David Gonzalez, Alberto Iznaga, Vincent Liota, Marty Salyak, Ruben Rivera, Earl Norman, Selwart Clarke, Yoko Matsuo, Kathy Kienke, Karen Jones, Gloria Lonzoroni, Norman Forrest - Strings
Doc Herzlin & Damion Sgabbo - French Horn
Lou Soloff & John Gatchell - Trumpets
Dave Taylor - Tuba & Bass Trombone
Harry Smyles - Oboe & English Horn
Paul Fleisher - Soprano Sax
Johnny Pacheco, Bobby Porcelli, Eddie Zervigon - Flutes
Jose Luis Cruz - Piano
Charlie Rodriguez - Tres
Angel Cachete Maldonado, Roy Markowitz, Hershel Dwellingham Sr. - Percussion
Chorus - Ya Yo El Indio, Adalberto Santiago & Marcelino Guerra
Latin Opera Creative - Larry Harlow
Words & Music - Larry Harlow & Jenaro Heny Alvarez
Interlude Music Composer - Marty Sheller
Orchestra Conduction - Larry Harlow & Marty Sheller
Arrangements - Larry Harlow, Marty Sheller, Jose Luis Cruz, Papo Lucca and Javier Vazquez
Narration - Jenaro Heny Alvarez
Producer - Larry Harlow
Executive Producer - Jerry Masucci
Original Album Design - We-2 Graphic Designs, Inc., Izzy Sanabria , Walter Velez
Original Cover Photography - Jan Blom
Original Album Inside Illustration - Little Moon
Recorded - Good Vibrations Sound Studio, N.Y.C.
Engineer - Jon Fausty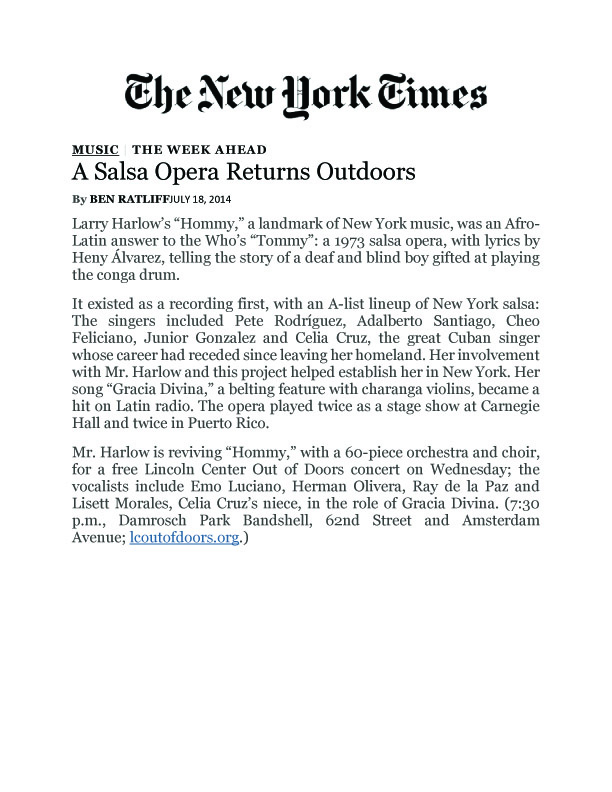 En el año 1972 la salsa estaba en todo su apogeo. Larry Harlow, conocido por el apelativo de "el judío maravilloso" cavilaba sobre la idea de un novel concepto musical para el mercado musical afroantillano. Inspirado por el éxito de la ópera anglosajona, "Tommy", Harlow se preparaba para el lanzamiento de un concepto similar, dirigido al mercado salsero.
La idea vio frutos en el año 1973 con la ópera Hommy, que utilizando la lírica de Heny Álvarez, cuenta la historia de un niño que aunque ciego y sordo, tenía un gran talento para la percusión. Aquí se unieron los grandes músicos de la época y soneros como Justo Betancourt, Cheo Feliciano, Adalberto Santiago, Junior González y Pete "El Conde" Rodríguez, en adición a quien se convertiría en la "reina de la Salsa", Celia Cruz.
La combinación de músicos y voces logró su cometido con una grabación que sentó cátedra en la historia de la música afrocaribeña con una radiante exposición que capturó las ondas radiales y la imaginación del público salsero.
Esta grabación también denota el importante antecedente de ser la primera grabación que marcó un verdadero éxito para Celia Cruz en el mercado de la salsa en la nación americana.
Casi accidentalmente, Harlow se encontró con Celia Cruz en México y le comentó sobre su interés en una voz femenina para cantar en su ópera, a su vez Jerry Masucci buscaba también de Celia una alternativa para combatir la hegemonía musical que mantenía a La Lupe, como "la reina de la canción latina" en aquél momento.
Celia Cruz viajó a Nueva York con la intención de reunirse con Masucci a discutir las posibilidades de grabar con el sello disquero Fania y al acudir a la reunión se encontró que ésta era en el estudio donde se estaba grabando "Hommy". Celia me contó, "me enojé, y mira que yo no soy enojona. Me tenían todo preparado para que cantara el tema "Gracia Divina" el cuál yo ni tan sólo había escuchado. Pero bueno me aprendí el tema y lo canté".
"Gracia Divina" se convirtió en un gigantesco éxito, en adición a ser el tema que le abrió las puertas a Celia Cruz, que de inmediato grabó "Bemba Colorá" con las Estrellas de Fania y el resto es historia.
La variación musical y rítmica en la ópera "Hommy" ofrece la combinación de una amalgama de la tradición musical cubana en exitosos arreglos de Larry Harlow en lo que presenta una verdadera presentación del estado de la música salsera en los comienzos de la década de los setenta. En esa época los violines comenzaban a decorar la música salsera y su franca utilización se denota en la musicalización de Hommy. En definitiva, la orquestación en esta grabación es la presentación de la salsa a la máxima potencia y éste es un logro indiscutible de la magia musical de Larry Harlow.
Los temas "Es un Varón", "El Día De Navidad", "Quirinbomboro", "Gracia Divina", "Cari-Caridad" y "Soy Sensacional" fueron indudables éxitos radiales que se convirtieron en temas de baile y discusión entre todos los salseros. Era la primera vez que una ópera, de habla hispana, y ésta en el gremio salsero, era dirigida al populacho.
La ópera termina con un cántico a las fuerzas espirituales para la resolución de los problemas en el globo terráqueo, ruegos para terminar la guerra en Vietnam a través de la Gracia Divina, la Caridad mientras que presenta la renuncia del pueblo que prefiere el vacilón y no los sermones sobre el sabio vivir.

"Hommy" abrió las puertas a una presentación de este tipo y estilo al mercado salsero, y su presentación en Puerto Rico fue un gran éxito. Con Hommy, la salsa se vistió de gala y ese legado abrió las puertas para que la tradición musical afroantillana ahora visite las salas de más prestigio en el mundo.
Ése es el legado de "Hommy", una de las mejores grabaciones de la época, que unió a los mejores músicos del momento en una expresión que trascendió el tiempo; y, a su vez, trajo a Celia Cruz al mercado salsero y la colocó en un sitial de honor el cual nunca abandonó. Pero más importante aún, "Hommy" llevó a la Salsa a un nuevo lugar entre el público demostrando que la expresión musical cabía en las mejores salas del mundo. Desde ese momento, la salsa se convirtió en música de sala, y esa es una gran deuda para esta grabación.